The 2017-18 ski season is here. We are pretty excited about this season's new pant colors. Staying true to our roots, and keepin' it 100, we've got a color for every body. Some favorite colors and styles are back by popular demand. Some are updated versions of last years colors. Other colors are completely new. Read on for a description of each color to help you determine which color is right for you.
Primary pant colors
If primary colors – red, yellow and blue are your jam – we've got you covered. This season's staple colors are vibrant, yet versatile. There is Navy. A dark, true navy blue pant. Think of a mens blue suit or the color of the Marine Corps dress blues pant – that's the navy blue we're talking about. We've brought back our ever-popular Optic yellow. Just as in seasons past, it is a bright, neon, tennis ball yellow. And then there is Red. Our red side zips are a true "racer red" like a fine sports car (or fire engine!).

Neon pant colors
For those who like to stand out in a crowd (or on white out days on the hill), there are neon colors like Hot Pink, Tangerine and Lime. Pink is back, but this time as a Hot Pink. It is a brighter pink than we have had in the line before. It's fresh and good. Tangerine is a brighter "more tropical" version of our original orange. It's more of a bright coral color. And Lime is also a brighter version of its predecessor. In addition to Optic Yellow, all of these pant colors are neon colors. We think you will find these bright, fun and fashionable colors are on-trend to coordinate with all the best race suits, jackets and winter accessories for 2017-18.
Blue (and purple!) pant colors
These colors are lit! If you are looking for that certain color to perfectly accent this years ski outfit, these colors are for you. A new color for this year, Ocean, is very similar to last year's blue, but not identical. It's a similar tone, but brighter. Purple is back by popular demand. We like to give the people what they want. This season's purple is a true purple. Think spring crocus in bloom, or purple petunias. Saturated with color, yet fresh and bright.  And last, but not least – Sky. Sky blue is an "it" color for females who don't like pink. But can also work very for males. It's similar to Julia Mancuso's signature color and will coordinate beautifully with a "Julia white" helmet or "Julia blue" sparkly goggles.
50/50 pant colors
Our wildly popular 50/50 pants are back for winter 2017-18. Utilizing the same great, bright colors from the rest of the collection in a fun pant mash up! The Ocean/Tangerine 50/50 pants coordinate two great hues for a classic combination that will work well with many different jackets. We joking call the Black/Hot Pink 50/50 pants the mullet of the ski pant world. They are business on the right (black side), but a party on the left (pink side). If you want to show off both sides of your personality – these are the pants for you. And the Tangerine/Lime 50/50 pants are just bright and fresh and fun.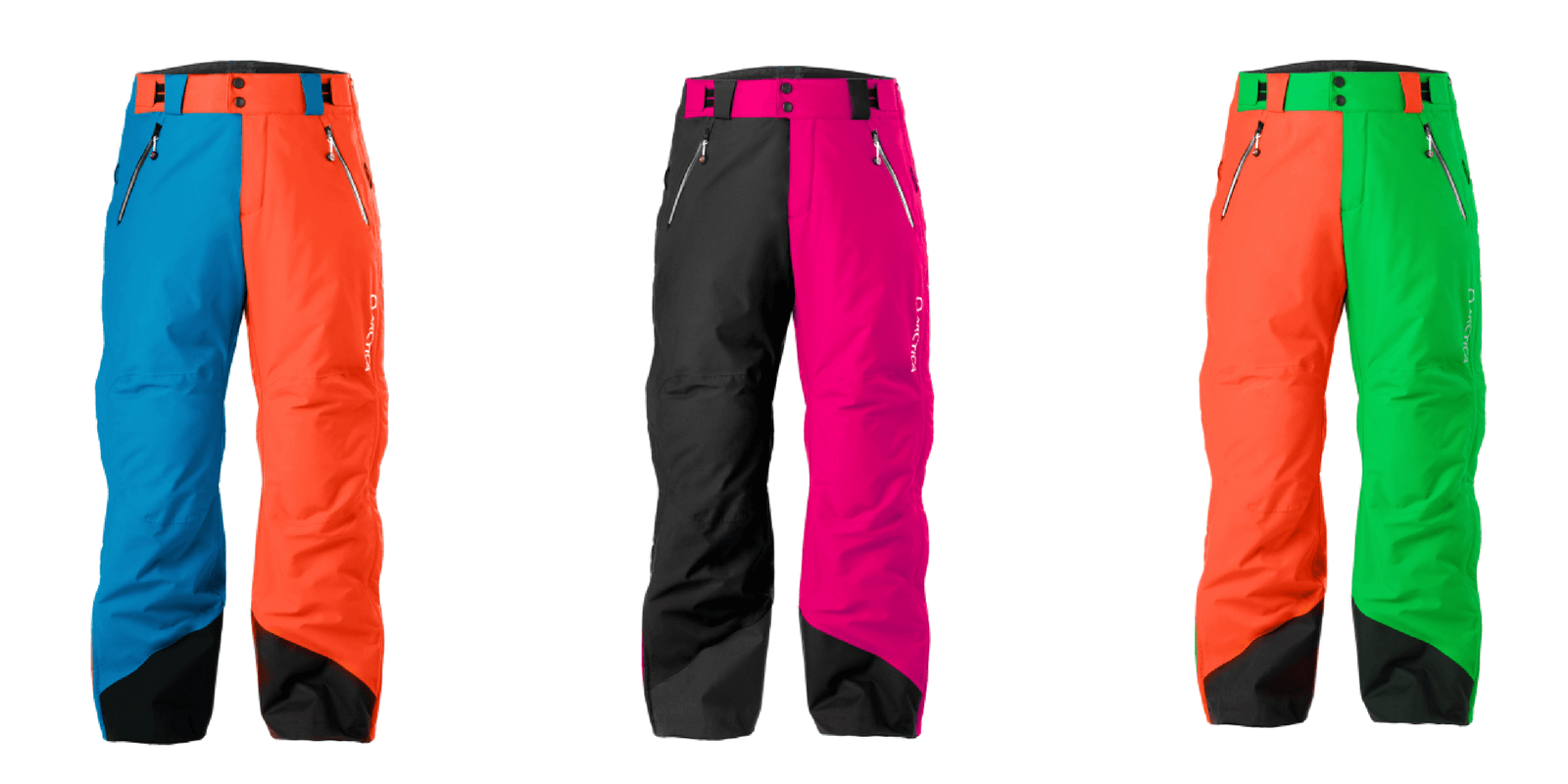 Of course, there are still black side zip pants in the line. That is something that will never change. Some clothing lines have "the little black dress", we've got black side zip pants. They go with everything. Know which pants you want? All of the new Arctica Side Zip 2.0 pant colors are in stock and ready to ship now.