Introducing Arctica Side Zip Bib Overalls! Just in time for the coldest part of the year. Our newest ski racing pant brings all the best features of our well-loved Side Zip 2.0 Pants to a versatile bib overall pant. Think warm and durable, with functional features for the race course, the backcountry or anywhere in between. 
You ask, we deliver. Over the past couple of seasons, we've received more and more communication from customers asking for bib pants. That feedback aligned with our market analysis: more skiers and snowboarders are wearing bib pants.
There are limited options in bib-style pants on the market for ski racers. Our bibs are made with all the same core ingredients as our Side Zip 2.0 Pants. They are built to stand up to repeated abuse from gate training and are made with our tried and tested DURA10 fabric, a tough waterproof/breathable nylon fabric. All seams are taped, and zippers are covered to keep the elements out. Two-way side zips and an easy step-in design make the Side Zip Bib Overall easy to take on and off. Cordura scuff guards on the cuffs protect against race-sharpened edges. A light HEAT40 synthetic insulation protects your core against the elements, whether training in inclement conditions or touring in the backcountry.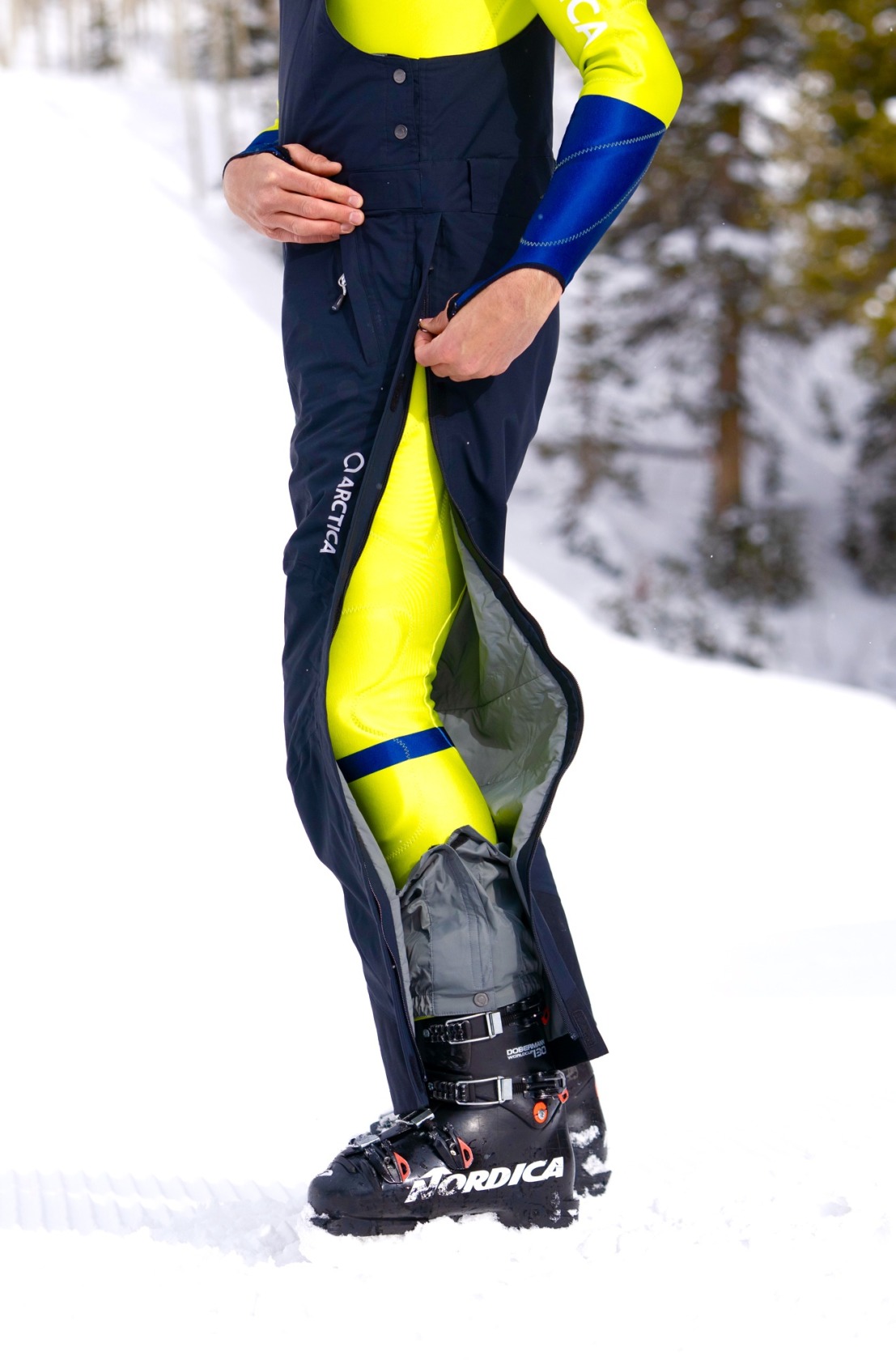 3 Reasons You Should Ski in Bib Pants
1 –
Bib Overall Pants are Warmer and More Protective
A bib pant's full-body fit traps body heat. You can wear fewer layers with more core insulation from a bib. That full-body fit protects against snow too. With regular ski pants on, snow can enter your pants, jacket, and maybe even under layers when you take a tumble or ski on a stormy day. (Who doesn't know what I'm talking about??) Bib overall pants protect against snow from coming in. 
2 –
You Want to Train Without a Jacket
Bib pants offer the warmth of a core-insulating layer without the whole bulk of a jacket. Our Side Zip Bib Overall pants make it possible to train in chilly conditions without a jacket on. They offer a widely adjustable fit and are athletic yet roomy. You'll be able to move in all the right places while holding warmth where it's needed. When it's time to remove your ski pants for a time trial, the full side zip makes it easy to just step through the waist of the pants.
3 –
Bib Pants Are Versatile
Whether you are a racer who dabbles in the backcountry or an all-mountain skier who races every so often, our Side Zip Bib Overall is the perfect do-it-all pant. Two-way full side zips are functional everywhere. Sure, you need the full side zips to take your pants off for a race, but you can use them freeskiing or in the backcountry too. Side zips maximize ventilation. When you're hot heading up the skin track, you can unzip. Hot when the sun comes out while free skiing? Unzip. Bibs offer extra gear storage too. Ditch the lodge: load that pocket with snacks, and you can ski all day. 
Are you a bib pant convert? Get your Arctica bibs now! For this season, we have two colors, black and olive drab (O.D.), available in adult sizes XS-XL, retailing at $250.