For versatility, comfort and warmth check out the Arctica Featherlyte Packet and PackVest. Designed and developed to be worn separately or together, they are warm, yet low profile and incredibly lightweight. In fact, light as a feather! Wear the PackVest or Packet by itself during the shoulder seasons or layer them up when the mercury drops. But there is more to the Featherlyte's than meets the eye!
It's all about the down
You may not know it but prior to launching the Arctica brand we had supplied many of the outdoor industry top brands with products for over 50 years. During that time we developed special relationships with our sources to insure consistent quality. Our goose down comes from the same supplier that we have used since the beginning, ethically sourced from farm raised geese raised for consumption not for their feathers.
It is very clean, consistent and outperforms down that is sourced from the open market. We use 650 fill power goose down because it has proven over time to be the best combination of consistent performance and availability.
Duck down vs Goose down? Not even close. Recently you may have seen duck down touted as an option for goose down from other companies. There is a simple reason for this, it's cheaper and easier to source but it is not even close to the same when it comes to performance, not to mention the smell due to the oily residue that is left in the feathers. Don't be cheated, go for real goose down!
Why Duralite fabric and what is it?
Duralite is a proprietary fabric developed by Arctica in partnership with our key fabric supplier and exclusively available in Arctica products. Duralite is a nylon fine denier fabric that is strong yet light and is downproof by construction. That means that the fabric has a dense construction and has been woven tightly enough to keep all those down plumes inside. Inexpensive fabrics use coatings to achieve downproofness but those can wash off leading to down leakage over time. As well, coated fabrics don't have that same silky touch that Duralite has. Duralite is treated with a durable water repellent (DWR) to shed light moisture.
Simple designs, packed with function
We call them featherlyte because of their light weight. Vests weigh less than 7 ounces , jackets 11 ounces and both are highly packable. Like most Arctica jackets the Featheryltes use a two way center front zipper for infinite adjustments. Reflective trim down the center front and reflective logos add safety for those earlier morning dog walks or evening race training sessions.  An internal zippered pocket and zipper handwarmer pockets keep your small personal items secure. Narrow goose down baffles and a trim "racer fit" keep Featherlytes light and fast.The Featherlyte Down Packet has a warm and cozy "micro snow cuff" inside the wrist of each sleeve to keep the elements out.
Convertible and Convenient
The secret to the Featherlyte Packvest and Packet is that they are convertible. Pack them into their internal zippered pocket and it converts to a convenient travel neck pillow. This internal back pocket also doubles as a secure hidden pocket for personal items like your passport or money. Perfect for your next trip. Watch our video below.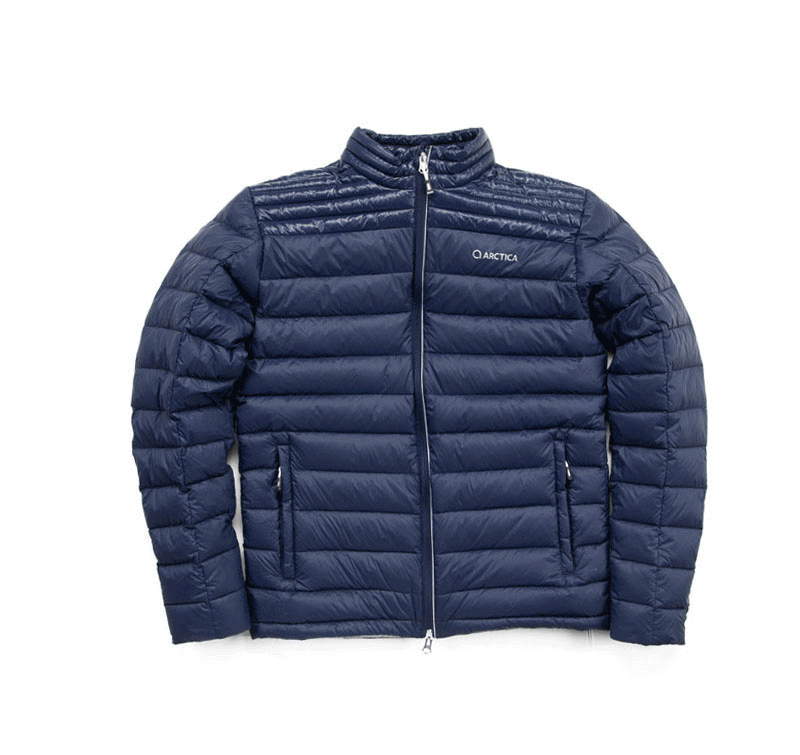 Arctica: Ski. Race. Style
Don't just take our word for it that the Featherlyte PackVest and Packet rock. Check out this YouTube Video to see what Nicole Feliciano from MomTrends and her ski racer daughter, Kiara, have to say about Arctica Featherlyte Down Jackets.
The Arctica Featherlyte PackVest, as comfortable in the city as it is on the hill. It is available in four colors for men, six colors for women, plus 3 jewel tones and five colors for youth.
The Featherlyte Packet is available in four colors for men, and six colors for women. This lightweight goose down jacket is a "go anywhere" jacket that you are sure to love.
For more information, check out our blog post Arctica is the Down Jacket Destination.